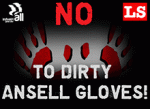 At the request of IndustriALL Global Union we've launched our third campaign in a week — this one in support of workers in Sri Lanka.
IndustriALL has even done a nice logo for the campaign with their logo and a version of ours.
And after you've sent it off, see what you get on the landing page.
No Comments »
RSS feed for comments on this post. TrackBack URL
Leave a comment