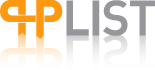 Update 2: Lists are now working again.
Update: DirectNIC writes "We are currently doing an upgrade on h-sphere, that is why you are getting that error. It should be completed in a few hours. Sorry for any inconvenience."
Our mailing lists have stopped working.  I've written to DirectNIC, the company which hosts them, with this support request:
"I have installed PHPlists on your server several months ago, and they worked fine until this morning.  Now when I go to http://laborlists.org/ and click on LabourStart or IUF, instead of getting a web page to manage my lists, I see the PHP code.  It's as if your server has stopped recognizing PHP scripts — though I did nothing unusual recently that might cause this.  It's urgent that we get this fixed.  Thanks."
I'll let you know when they are working again.
No Comments »
RSS feed for comments on this post. TrackBack URL
Leave a comment